All of Ellen's novels are available as paperbacks and on Amazon Kindle.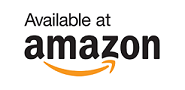 New novel Sugarplums, Spells & Silver Bells (Book 8 Legacy Of magick series).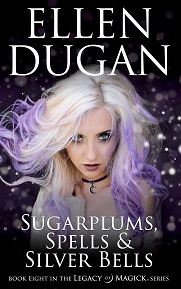 Kindle Price- $0.99
Paperback Price- $6.99

A bewitching Holiday novella from the Legacy Of Magick series!

When Violet O'Connell, Williams Ford's favorite purple-haired florist, dresses up as the Sugarplum Fairy for her town's holiday festival, she gets a little more than she bargained for.

Violet comes face to face with Matthew Bell, the man she walked away from seven years ago but has never stopped loving. Passion was never their problem, however trust was—and still is. Now he's back in town with his young daughter, and Violet wonders if Matthew wanting a second chance is because of a spell-casting mix up, or is it just fate?

It's going to take a special sort of Yuletide magick, a meddling familiar, and a mischievous sprite named Charlie to grant Violet the fairy tale ending that she's always dreamed of.

Click links below to order your copy of Sugarplums, Spells & Silver Bells
Amazon



Spells Of The Heart Book #7 in the Legacy Of Magick series.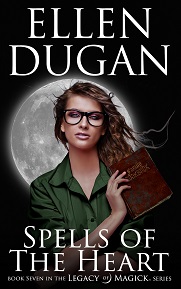 Kindle Price- $2.99
Paperback Price- $10.99

Love is a spell of the heart not easily broken...

Being a Witch didn't guarantee that Autumn Bishop would stroll through life without any challenges. Sometimes it meant quite the opposite. Autumn has spent the last six months renovating her historic home, and it turns out that she's not alone in the bungalow. The ghost of her great-aunt Irene is also in residence, and the old girl has been having a field day frightening away any contractor who attempts to take on the renovations of "her" house.

There's only one contractor who won't be put off by a haunted house, and that's Duncan Quinn. Out of options, Autumn agrees to hire her ex—because as a fellow practitioner there's no reason they can't simply be friends. And it certainly doesn't matter that he looks better than ever.

However, the ghost has an agenda, and she's not above using magick to get her way. When Autumn tries a recipe from Irene's old cookbook, it yields surprising and sexy results. As Autumn and Duncan grow closer they uncover a secret, one that affects both of their legacies and could change the futures of the Bishop and the Drake families forever.

Click links below to order your copy of Spells of the Heart
Amazon
Nook



The Hidden Legacy (Book 6)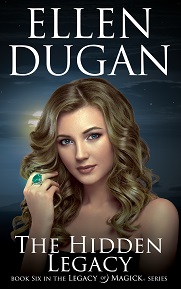 Kindle Price- $0.99
Paperback Price- $7.99

The fans asked for it and now "The Hidden Legacy", book 6 in the Legacy Of Magick series has been re-released as a standalone!

Meet Hannah Osborne Pogue. She's a direct descendant of one of the victims of the Salem Witchcraft Trials. Even three hundred years later, her family line still demands secrecy when it comes to their Craft. A practical Witch, Hannah is raising her young son and working as an office manager for Fox Investigations. There, she can discreetly use her unique witchy talents by consulting occasionally with her best friend on his cases.
When Hannah inherits an antique poesy ring from her grandmother, she becomes the keeper of a bewitching legacy that has been protected for generations. The trouble is that the ring has a mind of its own. It likes to gift its owner with enigmatic visions of the future... Future lovers in particular.
If that wasn't enough, Hannah's quiet and organized world turns to chaos when Henry Walker, a former cop from Atlanta, joins the agency. She finds Henry scruffy, suspicious and regrettably—sexy. He on the other hand, doesn't care for the idea of civilian consultants or for following Hannah's workplace rules.
However, he soon discovers that there's more to the office manager than meets the eye. Even as they clash, their attraction grows. Leaving Hannah to struggle with the obligations of her family's legacy, even while Henry is determined to discover whatever it is that Hannah's been hiding.
***Previously released in the dual book, Bewitched & Beloved***

Click links below to order your copy of The Hidden Legacy
Amazon



Under The Holly Moon (Book 5)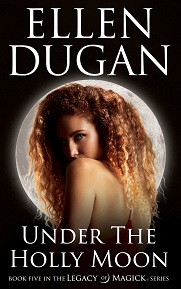 Kindle Price- $2.99
Paperback Price- $11.99

Is she a good Witch, or a bad Witch?

Holly Bishop, the darkest practitioner of her entire family line returns home after almost three years living as a mundane, a very changed young woman. Determined to start fresh, she begins by rebuilding her relationship with her family, even as she keeps a heartbreaking secret.
While she was away, life has gone on for the rest of the Bishops, and Holly struggles to find her place in William's Ford, and in her family once again. Transferring to the local university is the least of Holly's problems. She is constantly tempted to use her empathic abilities and now that she is back home, her newer and stronger powers are attempting to break loose. When an adversary returns seeking revenge, Holly ultimately pays a hard price and then falls under suspicion due to her family's legacy of magick, and her own troubled past.
Now Holly realizes that she must cast off the fear she has carried, re-embrace magick, and accept her powers. But things are never quite as they seem in William's Ford... ghostly visitors, missing family heirlooms, mysterious ancestors, rogue love spells, and finally a forbidden romance challenge Holly at every turn.
Can she manage to walk the line between light and dark, love and hate and still maintain her own hard-won moral code? What will happen now that she's accepted her true magickal path and let her emotions and passions free?

Click here to order your copy of Under The Holly Moon



Beneath An Ivy Moon (Book 4)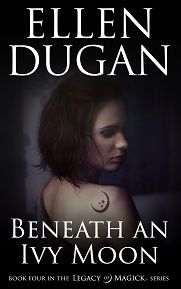 Kindle Price- $2.99
Paperback Price- $10.99

Fan favorite Ivy Bishop takes center stage in this newest volume of the Legacy Of Magick Series.

Sure, Ivy Bishop's life is a little unusual… The Gothic-fabulous and youngest female Witch in her family line is now a full time college student starting her Junior year. Living on campus, Ivy and her BFF, Cypress are residents in the 160 year old Crowly Hall. The dormitory that the locals swear is haunted.
When the school newspaper assigns Ivy to photograph the expansion of the new University Museum, Ivy is on hand when human remains are uncovered within an old stone foundation. Construction comes to a screeching halt as first the police, and then archeologists descend on the site.
Whatever they dug up has apparently opened a supernatural can of worms. Life at the dorm goes from mundane to eerie. And when a Witch thinks things are eerie— you know that's bad. Ghostly sightings at Crowly Hall, bizarre paranormal activity, and a series of accidents at the dig site, are only the beginning.
After an unknown entity appears and warns of calamity, Ivy realizes that she must rely on her intuition and the legacy of magick. Trying to solve the mystery of who the entity was in life, may very well put herself and her friends in danger. Digging into the history of William's Ford could prove to be hazardous— especially for Witches.

Click here to order your copy of Beneath An Ivy Moon



Message Of The Crow (Book 3)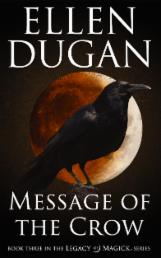 Kindle Price $2.99
Paperback Price $12.99



One crow for sorrow and two crows for joy…
The drama keeps unfolding in William's Ford, the picturesque and charming Missouri college town where a deadly, decades old battle of dark versus good magick is being waged.
Seer, Autumn Bishop is still reeling from the shocking loss that has devastated her family. But a Witch's work is never done, and the last section of the missing grimoire has to be found, leaving her with no choice other than to go forward in this third installment of the Legacy of Magick series.
When following her heart leads to pain, betrayal and disillusionment, Autumn must pull herself up and try to make her own way. Not sure who she can trust, and at last coming into her own abilities, Autumn begins to question ethics and the motivations of those closest to her. With the help of new friends, Autumn explores different traditions of magick while ghostly clues and messages from the spirit world surround her.
As the final lunar eclipse of the tetrad cycle draws closer, and the search for the Blood Moon Grimoire reaches its climax, the magickal families of William's Ford must draw together to defeat a common enemy. Will Autumn be able to put an end to the curse that has haunted her family for generations?


Click here to order your copy! Message Of The Crow


Secret Of The Rose (Book 2)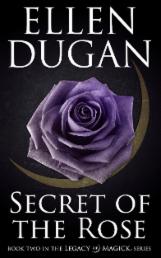 Kindle Price $2.99
Paperback Price $11.49

The search for the Blood Moon Grimoire continues…
Welcome back to William's Ford, Missouri. The bewitching college town where magick and weirdness seems to happen on any day of the week that ends with the letter 'Y'.
Autumn Bishop, grad student, Seer, and the newest Witch in town, has her hands full in the second installment of the Legacy of Magick Series. Her relationship with Duncan is heating up, and she is finally finding some normalcy in her new life. But things are never as they appear in William's Ford, and Autumn's path is not an easy one. Grisly poppets are being discovered, and they are linked to a series of accidents involving teenage girls. Added to this, a mysterious, yet kindly new ghost has begun to haunt Autumn at the Manor— just in time for Samhain. The ghostly visits are filled with distracting clues—clues to a long held skeleton in the family closet and the possible location of more pages from the lost Blood Moon Grimoire.
As Autumn digs into her own past for answers, she discovers a decades- old- lie and heartbreaking secrets which could drive Autumn's new-found family apart. Deception, division, and death haunt Autumn and all of the Bishops. Will she be able to rise to the challenge of her legacy of magick and uncover the secret of the rose in time?

Click here to order your copy! Secret Of The Rose

Legacy Of Magick (Book 1)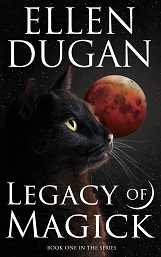 Kindle Price $0.99
Paperback Price $10.99


So it turns out Magick runs in the family...
Autumn Bishop was just your average grad student...who happens to be a Seer. When she moves in with her long lost aunt and cousins, they look like a relatively normal family from the outside, however they turn out to be so much more.
When ancient traditions, longstanding magickal feuds, ghostly visitors, and Witches with malicious intentions start coming out of the woodwork, Autumn finds herself smack in the middle of the action as everything she thought she knew is turned upside down.
Drawn, as if by fate, into her family's legacy of magick, a new world unfolds for her, as her old one is left irretrievably behind.

Click here to order your own copy! Legacy Of Magick